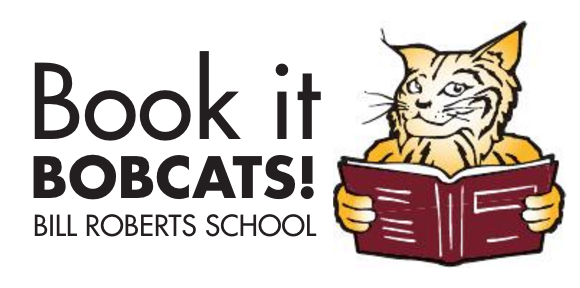 ---
What is BOOK IT BOBCATS?
Book It Bobcats is Bill Roberts' summer reading program, created to foster literacy while raising funds for our school. Kids track their summer reading, ask family/friends for sponsorships, and in the fall, we celebrate their successes and give out some pretty cool prizes!!
Program goals
Our primary goal is to keep EVERY child engaged in this program and reading throughout the summer. Consistent practice helps establish reading as a priority, a joy, and a habit. We want every kid to return in the fall prepared to learn!
Here is a calculator for setting your 100 days reading goal (June 3 – September 10):
15 minutes daily reading = 25 hours total for the summer
30 minutes daily reading = 50 hours for the summer
45 minutes daily reading = 75 hours for the summer
60 minutes daily reading = 100 hours for the summer
We have a fundraising goal of $20,000. Here are a few ideas on how to raise dollars for our school while reading:
Students may ask friends/family to sponsor their summer reading. (Recommended: ask 10 people to contribute $0.50 for every hour spent reading.)
Instead of buying books for the summer, borrow from the library, and donate saved funds back to the school.
Fundraising is NOT required to participate. Raised funds help support your child's education.
Important Dates
June 2: recommended registration deadline (later sign-ups and new students are welcome!)
June 3: 100 days of reading begins!
July 20: Summer book exchange and picnic
September 10: last day of reading
September 15: submit your reading totals and all donations
September 22: celebrate your success and collect your prizes!
Need help finding books?
Start with some book suggestions from the Denver Public Library or use Scholastic's Grade Level Recommendations. Denver Public School and Denver Public Library eBooks are available at soraapp.com with the same student username and password that your student uses for all DPS sites.
For younger students, read aloud to them! There is a direct correlation between the number of books read to a child and the child's reading success. Reading aloud to our child is one of the best ways to help your child become a strong reader.
Prizes
The more hours you read, the more prizes you earn!
All participants will get to take part in the Book It Bobcat celebration
The school's Top Reader will get a $100 bookstore gift card
The Top Reader and Top Fundraiser in (K-5) EACH GRADE: will get a customized rechargeable clip on book light (for reading in bed or on the go!)
The Top Reader and Top Fundraiser in (6-8) EACH GRADE: will get a choice of (1): spiritwear hoodie or customized book light
Students who raise $100+ will have an opportunity to help curate a "Book It Bobcats Reader Recommendation" library section. This is an opportunity to recommend their favorite book(s) with a personalized note/bookmark.
Who can participate?
We want ALL Bill Roberts students to participate in Book It Bobcats: from Kindergarten to 8th grade!
New to Bill Roberts?
Book It Bobcats is the perfect way to help your child prepare for school, help them make reading a habit, and get them involved in the Bill Roberts community right away. Regardless of grade, THIS PROGRAM IS FOR YOU!
What You Need To Do
Spring
Register your summer reading goal, and optional fundraising goal.
Summer
READ! READ! READ! Keep track of your hours read from June 3 to September 10 (that's 100 reading days.) Family or friends reading to children counts!
Join us for a midsummer book exchange and celebration in July. A "save the date" with details will be sent to registered participants.
Try asking at least 10 people to donate to your reading fundraising campaign. And stay tuned for opportunities to exchange books, share reading progress, and get recognized!
Fall
Add up summer reading hours and donations, and fill out the Participation Form online, or submit the information to your teacher by September 15. Donations can be made online or by collecting cash or checks (made payable to Bill Roberts PTA).
Recognition and Celebration
We will recognize and celebrate all Book It Bobcat participants in the fall with a celebration, including Popsicles and bouncy castle time.
Students who read 100 hours and more will also be able to participate in the Super Reader Celebration, breakfast and bounce time.
Questions? For more details or questions, email bookitbobcats@gmail.com.